Utah Concealed Firearm Permit (CFP) Online Course


Coming Soon!
Utah Concealed Carry Permit
Utah residents must complete a firearms familiarity course certified by Utah Bureau of Criminal Identification prior to applying for the Utah CFP. Non-residents must require proof of permit. If applicant resides in a state that has reciprocity with Utah, a CFP or CCW must be obtained from home state and submitted with the Utah permit application.
Utah Resident Requirements
Applicant must be at least 21 years of age for the standard permit; at least 18 years of age for the provisional permit
All applicants must pass a criminal background check
Proof of good character…whereas the applicant;

has not been convicted of a felony;
has not been convicted of any crime of violence;
has not been convicted of any offense involving the use of alcohol;
has not been convicted of any offenses involving the unlawful use of narcotics or other controlled substances;
has not been convicted of any offenses involving moral turpitude;
has not been convicted of any offense involving domestic violence;
has not been adjudicated by a court of a state or of the United States as mentally incompetent, unless the adjudication has been withdrawn or reversed
is qualified to purchase and possess a firearm pursuant to Section 76-10-503 and federal law
For a complete list of state requirements as outlined by the Utah State Legislature, click here.
What to Expect From Concealed Carry Ed
Live‐Action, High‐Definition Videos
Our course videos feature a combination of professional educators (who double as professional actors), entertaining storylines, and up‐to‐date scenarios that give you one of the most effective ways to learn safe handgun-shooting practices.
Learn Your Way on Any Device
Concealed Carry Ed offers online courses that are fully mobile-friendly from start to finish. This safety course is designed to work on your smartphone, tablet, laptop, or desktop computer.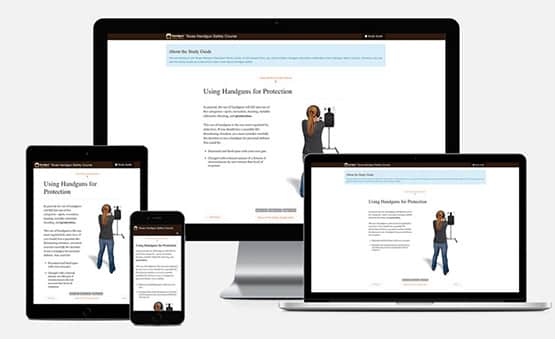 Saved Progress
You may complete the course at your own pace. The course can be completed in one sitting or a little at a time over several days. Log in and out at any time, and we'll keep track of your progress. Most students finish the course in a few hours.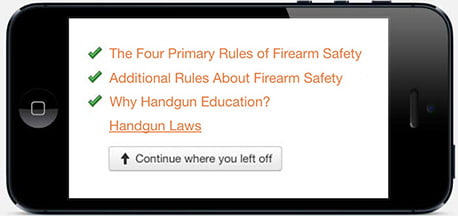 We're people, not robots.
Your Concealed Carry Ed course comes with a dedicated customer service team made up of real people, not robots. We're here to provide assistance to you through all channels—phone, email, and chat.
We're available to help you:
Mon-Fri 8am to 8pm CST
Sat-Sun 8am to 5pm CST
1-800-830-2268 (toll free)